About the artist W. R. Hell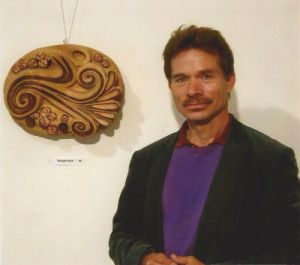 Photo made in 2011 - W. R. Hell with Relief "Klangformen"
Winfried Richard Hell with the artist name W.R. Hell, was born in 1957 in Glonn (district Ebersberg in Upper Bavaria). He is primarily an artist, but he also received a training as chemotechnician in 1980 and as a physiotherapist in 1997. In 1985/6 he did a voluntary year as a social worker for homeless persons.
His father lived for 35 years with his family near Glonn. There he worked as a teacher in a charitable organisation. Moreover he became quite famous as a woodcarver, mainly working for the church. After retirement in the Chiemgau (a region in Upper Bavaria), he continued to work as a woodcarver until old age.
The Beginning
The three year old boy meditated without being asked to do so. His father remembered "Winfried sat on the stoop in front of the entrance of the house. In front of him was a large, oval stone. He gazed at it far over half an hour. Winfried seemed totally relaxed, but did not sleep. Several times I saw my son sitting like that in the garden".
The six year old wanders after school through the forest (in spite of being forbidden to do so), listenes to birds, watches creeks and animals. His parents realize that he has great imagination, sometimes he seems dreaming. W.R. Hell was in his early 20ies a spiritual searcher. His search lead him to various Christian groups and beyond them. Many years later he approached far eastern spirituality, the wisdom of Buddhism and the Upanishades.
About the Munich Artist W.R. Hell
For 40 years he has been working, in addition to his other profession, as painter and woodsculptor. Only since 2004 he has exhibitions in and around Munich: 11 one man shows in the Sardenhouse in the Munich Westpark. From 2004 until 2018 additional one man shows. Interim, in Munich-Laim, 2006. In the Pellkoven Castle in Munich Moosach in 2006. In the Hypovereinsbank in Munich Nymphenburg in 2008. In the Diakoniewerk Munich Maxvorstadt in 2005. In the hospital Starnberg in 2008, as well as group exhibitions with the KK83 in castle Blutenburg in 2016.
W.R. Hell has been member of the KK83 since 2014, KK83 is an artists group since 1983 in Munich Pasing. W.H. Hell learnt the craft of woodcarving from his father as well as the art of landscape painting. Figure drawing he learnt from the Munich drawing teacher Gerd Neuner. Research revealed that, from his mother's side, he is a direct descendant of Dominikus Zimmermann, who was the architect of the Wieskirche and also the most eminent stucco-master of the Wessobrunner School. The artist is not confined to one style. He chooses any diversity in his various works of art.
First Artistic Phase from 1978 on
Due to the knowledge of various works of art by the artist Wassily Kandinsky, the world of abstract art opens to him. W.R. Hell had visited an exhibition of many works of art by this great artist several times.
He gets inspired by Kandinsky´s art in an intuitive, rather than an intellectual way. Similarly he gets inspired by the cubist masters, such as Franz Mark and Lyonel Feininger.
The art historian Dr. Sigrid Esche-Braunfels (who is the mother of Stephan Braunfels, the architect of the `Pinakothek der Moderne´, Munich) was enthusiastic about the works by the artist W. R. Hell, especially his woodwork. She enabled the exhibition 2005 in `Diakonisches Werk München Maxvorstadt´. She also spoke introductory words in two exhibitions in 2004 und 2006.
In 1990 W.R. Hell learnt the secrets of 'Butoh' in a purely intuitive way with the dancer Henriette Heinrichs (www.butoh-tanz.de). In 1992 he received a training as leader of creative dancing in the Freies Musikzentrum München.
Second Artistic Phase
Inspired by the meeting with the outstanding pianist Gabriele Seidel-Hell (-> www.seidel-muenchen.de) for the first time his unique, sculptural talent came into life. Before that time his woodcarving was purely representational. Practically at the same time his painting (in oil) received a fundamental impulse. His dancing abilities of former years came in handy: "Due to my dancing experience (Butoh and creative dancing) I can transform music into creative movement and impulses. These movements often influence my artistic creations."
W.R. Hell says about his art: "Art and spirituality often emerge from the same inner depth and have their origin beyond space and time. Buddha and Christ are aspects of the absolutely devine in human beings."
Art
From the infinite nothingness
Emerges creative impulse
Forms itself tangibly
In that moment
Into material shape
Of a work of art
Unique, individual
By the hands of the artist
W. R. Hell, August 9, 2019
What is the Position of the Artist in Society?
W.R. Hell is convinced that his spiritual, practical and profession related experiences as well as his adventures (travels to South India and Sri Lanka) are being reflected in his artistic inspirations.
He writes about himself at the end of his book "Dream Meetings": An artist should be so self-confident that the qualities of his soul can come to fruition in his art work.
He stands for his individual mental and soul expression which he incorporates. That way the artist creates first of all by himself and for himself. Not influenced by society, he should be independent from actual tendencies. Art that can develop as freely as possible from its own depth, is independent from the actual taste. Maybe, therefore, the art is less visible, but it opposes the flighty trends."
Works of Art with Text
Some of W.R. Hell's works inspired during and after completion, his thoughts, which he wrote down in form of poems. They are not understood as interpretations. Followed is an example of a poem attributed to the relief "Kontakte" (-> see Gallery "Reliefs"):
Two entities
Separated
Through their so-being are incompatibly separated.
In the inner diversity
They are two poles:
In between the rising energies,
Like the strings of a musical instrument.
And these strings, moved by inner order
Produce sounds full of harmony.
W. R. Hell
Publication / Literary Activities of the Artist
Interview with the artist